Specialized facilities that balance high-quality care and homelike comfort.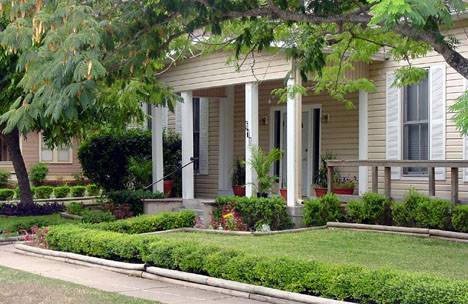 After a neurological injury or diagnosis, some patients aren't able to go home. They may require more supervision or physical care than can be provided at home. To help patients in these situations, Rehab Without Walls® provides two types of residential care.
Transitional care – Patients receive intensive neuro therapy plus 24-hour-a-day supervision until they're ready to go home.
Supported living – Patients receive day-to-day support for activities like personal care and taking medications, for as long as they need it.
For both programs, our priorities are comfort, health and safety. We want our residential homes to feel like home, both for patients and for family members who visit. We want patients to receive high-quality medical care from people who understand the complexities of neurological conditions. And whether they're staying with us for a few months or for many years, we want our patients to be safe. That's why some of our facilities have state-of-the-art monitoring with Rest Assured technology. In combination with our residential staff, Rest Assured further ensures the safety of our residential neurosolutions patients. More about RestAssured.
Program details
Transitional care with neuro therapy
Transitional care allows for a smoother and safer transition from hospital to home. It is especially suited for patients who are in one or more of these situations:
They require high-intensity rehabilitation, 5-8 hours a day.
They engage in behaviors that can't be safely managed in the home.
They live in an area where specialized neuro rehab services aren't available.
Their family is unable to provide the level of care and supervision needed – for example, if the spouse needs to work.
They don't have family nearby to assist with care in the home.
They would need to modify their home to make it safe and functional.
Just like with our home and community neurosolutions program, we develop a customized neuro therapy program that incorporates the patient's goals and interests. Depending on the patient's abilities, therapy may start in clinic settings (such as a fully equipped therapy gyms and private treatment spaces). However, as the patient progresses, we conduct therapy sessions in real-life settings (such as local parks and grocery stores) as much as possible.
The neuro rehab plan is generally a blend of:
Physical therapy
Occupational therapy
Speech-language therapy
Neuropsychology
Vocational rehabilitation
Therapeutic recreation
Community reintegration
After a full day of therapy, patients receive care in the residence by specially trained staff, including neuro-trained nursing assistants. One-to-one supervision is available when required for safety of the patient.
The patient's care team is overseen by a physician and led by a clinical coordinator. The clinical coordinator ensures that there are no gaps or overlaps in services, facilitates communication and leads frequent team meetings with therapists, patients and families to review and update the plan of care.
Transitional care is covered by some commercial health insurance and workers' compensation plans. Some locations also accept Medicaid coverage and Canadian Veterans Affairs. More about insurance.
Supported living
This program provides long-term support for patients who are unable to live independently and are unlikely to do so in the future. It is especially suited for patients who are in one or more of these situations:
They require assistance with day-to-day activities due to cognitive and/or physical disabilities.
Their family is unable to provide the level of care needed.
They don't have family to assist with care.
All our residential locations offer supported living. Generally, this program does not include intensive neurorehab services like speech therapy and physical therapy, but rather focuses on helping patients achieve a high quality of life. For example, our skilled team can:
Ensure that the patient receives proper nutrition and medication
Help with life skills such as managing finances
Promote participation in educational, social, vocational and recreational activities
Supported living is covered by some workers' compensation plans. Some of our residential locations also accept Medicaid and other state funding. More about insurance.
Residential school
The Texas Hill Country School serves children and adolescents (ages six-22). The school specializes in working with students with acquired brain injury, autism and other developmental and neurological disabilities. Both residential and day programs are available.
A safer transition
"Patients who participate in [transitional care] return home with maximum functionality. They don't go home prematurely while they are still unsafe and experience re-injury. This, in turn, also reduces costly rehospitalizations."
– Ricki Ray, Director of Clinical Management
Find NeuroSolutions near you
News and Articles