Accreditation
Representing the highest quality of care.
When considering a neuro rehab program, do you know how to evaluate it or to whom to turn for answers?
Most people – even those who work in health care – don't. That's why there's the Commission on Accreditation of Rehabilitation Facilities (CARF). CARF is an independent, nonprofit accrediting body that is considered the gold standard for medical rehabilitation programs whose focus is to advance the quality of services to meet an individual's needs for the best possible outcomes.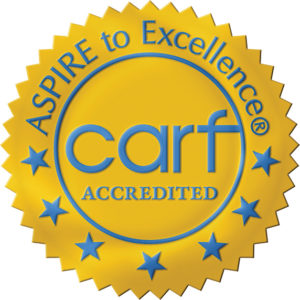 Value of CARF Accreditation
Organizations that are CARF-accredited meet leading-edge, internationally recognized standards. Accreditation with CARF signals the organization's commitment to continually improving quality through stakeholder feedback and service to the community.
It's noticeable that the CARF philosophy and Rehab Without Walls ® approach to care are remarkably similar: ensuring that individuals and their families are at the center of the rehabilitation program's focus and have an active role in treatment and recovery.
Please review our CARF accreditations and program specialties by each RWW location.
Our accreditation status
Three-Year Accreditation – This indicates that the provider is meeting or exceeding CARF standards.
One-Year Accreditation – This indicates that while there are some deficiencies, the program shows capability and commitment toward correcting them.
Provisional Accreditation – This means the provider is still functioning at the One-Year level the following year and has one year meet CARF standards or it will receive an outcome of non-accreditation.
Currently, Rehab Without Walls locations across the country hold Three-Year accreditation for most of our Home and Community programs as well as several of our Outpatient Medical Rehabilitation (Adults and Children/adolescents) and Brain Injury Specialty (Adults) programs.
CARF Accreditations are marked on each of our Rehab Without Walls locations pages.
Accreditation Process
During the survey process, CARF looks at clinical practices, business practices, policies and procedures, market and strategic planning, retention and recruitment efforts, quality assurance, safety standards, committee meeting minutes, advocacy initiatives in the community, employee credentialing, and information management. CARF pays particular attention to the data.
Rehab Without Walls uses a variety of evidenced-based tools, including administrative and clinical measures.  Some of the ways in which we obtain feedback include, but are not limited to, MPAI, CHART, SRS, discipline-specific tools, PSFS, and Patient and Referral Source satisfaction surveys.
All RWW Evaluations Include:
An annual performance evaluation
Customer satisfaction surveys sent to individuals, payer representatives and physicians
A professional advisory committee – made up of the executive director of each office, the marketing representative, payers, and individuals
A safety and quality assurance committee that confidentially reviews individual records, personnel files, and administration records
In addition, when the surveyors are on-site at each location, they spend time speaking with everyone involved in the rehabilitation process.
There is only one way to prepare for a CARF survey: to build the CARF standards into everything you do. That is why Rehab Without Walls NeuroSolutions continues to receive the highest CARF accreditations.
Customer Satisfaction Survey Results
Highlights from the 2022 Rehab Without Walls patient survey by uSPEQ®.
98% of respondents made Noticeable Improvements through their rehabilitation
97.8% of respondents would Recommend Rehab Without Walls
97% of respondents said Rehab Without Walls Services Met or Exceeded Expectations
97.5% of respondents were Satisfied Overall with their rehabilitation
These are typical of the results we have been helping our patients accomplish for more than 30 years!